trenamusic@gmail.com
Trena, "Music is a part of me, it makes me happy and brings me peace".  

" You are my Sunshine" on a crowded underground train, lullabies to her children, and  performing her own award-winning songs on stage, this Kootenay based singer-songwriter has been singing from the age of 3.   Song writing is Trena's newfound passion, and her writing exudes the same raw emotion she sings with. Trena's love of family and music has inspired her song writing journey, she is continually learning and growing as an artist.
" Love of family and music brings life to my song-writing", Trena.
Trena's first single "Cowboy" released March 2018 is one of the several songs that Trena and her Mother Shirley Gillison have written. "Cowboy" was nominated for song of the year at the 4th Annual Josie Music Awards the largest independent award show in Tennessee. 
In December 2018 Trena released her first album "Long Time Coming" a heartfelt country album inspired by early 90's era like Reba, Tanya Tucker and Patty Loveless. The title song "Long Time Coming" reached #24 on The Joyce Ramgatie International Country Music Top 40 Single Chart, and Trena herself at #90 on the Top 200 Artist Chart. The album held on to #1 for 4 weeks on Airplay Directs Top 50 Country Chart.
Trena's new single "Hold On" hit Canadian Radio in April 2021, the song made #1 on the Canadian Indie Country Countdown's weekly Top 100 chart and hit #28 on the Top 100 of 2021 chart.  Her  song "Crazy" also made the weekly  Top 100 chart  hitting #2 and #73 on the Top 100 of 2021 chart. 
Awards
2019 Josie Music Awards "Crazy" Traditional Country Song of the Year.
Current Singles
"My Dad"  Jun 2019
"Smokey Ol' Bar Rooms" May 2020
Music Video "Smokey Ol' Bar Rooms" May 2020
"Hold On" April 9, 2021 
Music Video "Hold On" May 14 2021
NEW RELEASE
"Breathe" Feb 11, 2022
Feelin' the love
Press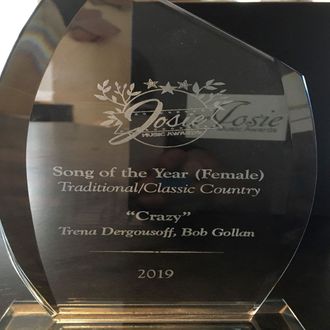 "CRAZY " JMA 2019 Song of the Year